Millions Need Your Help
From Devvy

May 15, 2007 (updated 2.6.014)(New update: Jan. 18, 2013 — a new furry friend for our family)The picture you clicked on is my dog, William Wallace; we call him Willy. While I primarily write about constitutional issues, I am also a dog lover and have kept dogs my entire adult life. It just sickens me that MILLIONS of dogs and cats are euthanized each year; approximately 7.5 MILLION last year alone. Let me say/type that again: 7.5 MILLION dogs and cats were put to sleep last year in this country.

Eight to twelve MILLION dogs and cats end up at animal shelters each year. As you can see by the numbers, most don't make it.

If you've ever been to an animal shelter, you know how heart breaking it is. The "good" ones, meaning pure breeds, get picked up by animal rescue operations and bless their hearts because they work so hard to find families. The others, like my boys, wait for people like me to get the courage to walk those buildings with cage after over crowded cage of desperate faces.

I adopted Willy on September 28, 1998; the photo you clicked on was after I got him home and from the groomer. He was a mess when I picked him at the pound in a cage with four other huge dogs. Here's what his little face looks like today: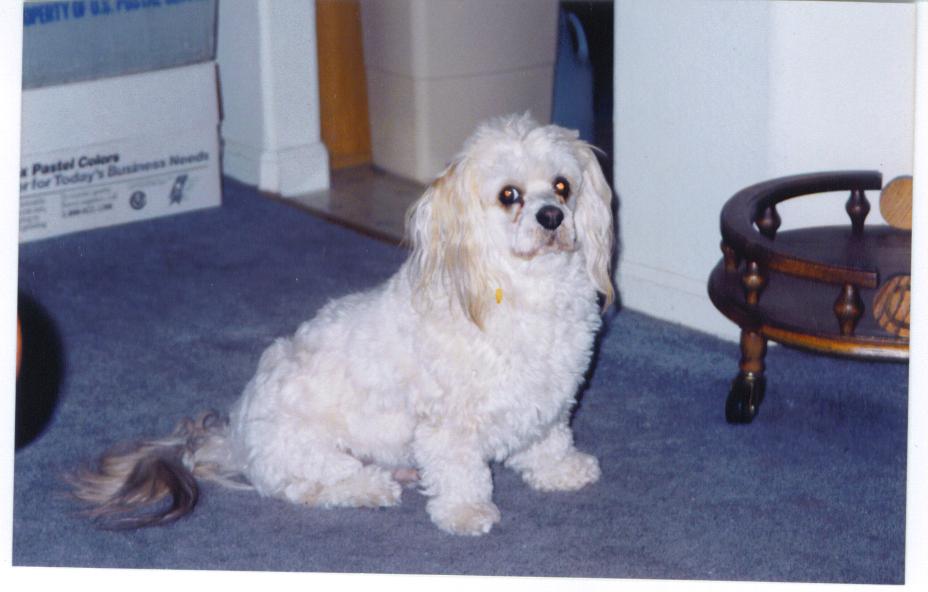 September 28, 1998 – December 27, 2010This is my other mugger, Dusty. I adoped him from the same animal shelter in Sacramento, California on April 15, 2000. He was a mess, just like Willy; stuck in a cage waiting for someone or death.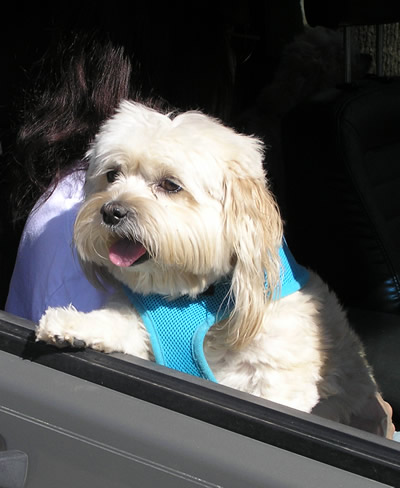 April 15, 2000 – August 10, 2010UPDATE: This is our new little girl, Muffin; a two year old Westie. I adopted her from a shelter. Muffin was found on the street in San Angelo, Texas, 100 miles from where I live. She was worth the drive and the adoption fee.Here in Texas there are over 343,000 dogs and cats that need adopting. Add up the other 49 states and you have millions. Most in local pounds don't make it. A decade passed from the time I adopted Dusty until I found Muffin and nothing has changed. Humane Societies, shelters and local dog pounds are over flowing with desperate faces: Please take me home. How shameful the people of this country continue to contribute to the terrible pet over population instead of being responsible and getting their pet spayed or neutered.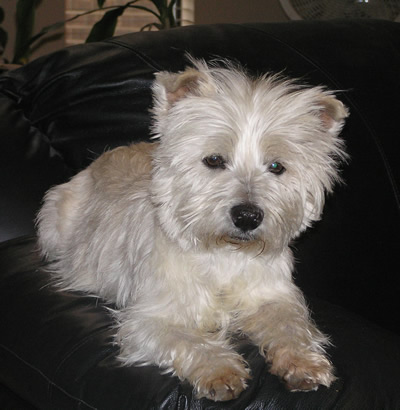 Muffin: Adopted January 22, 2011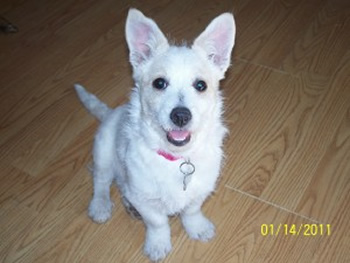 Missy, Adopted March 5, 2011 – another throw away found on the streetThis is Maddy. She is about two years old. A throw away on the street in Midland, Texas. I wasn't expecting to adopt a third baby January 18, 2013, while at PetsMart; 40 miles from my home. But, there she was sitting in the cage wagging her tail. It was love at first sight. She is a treasure. While she was spade when I adopted her, Maddy has had one litter of puppies. Poor girl. Heaven only knows what happened to them.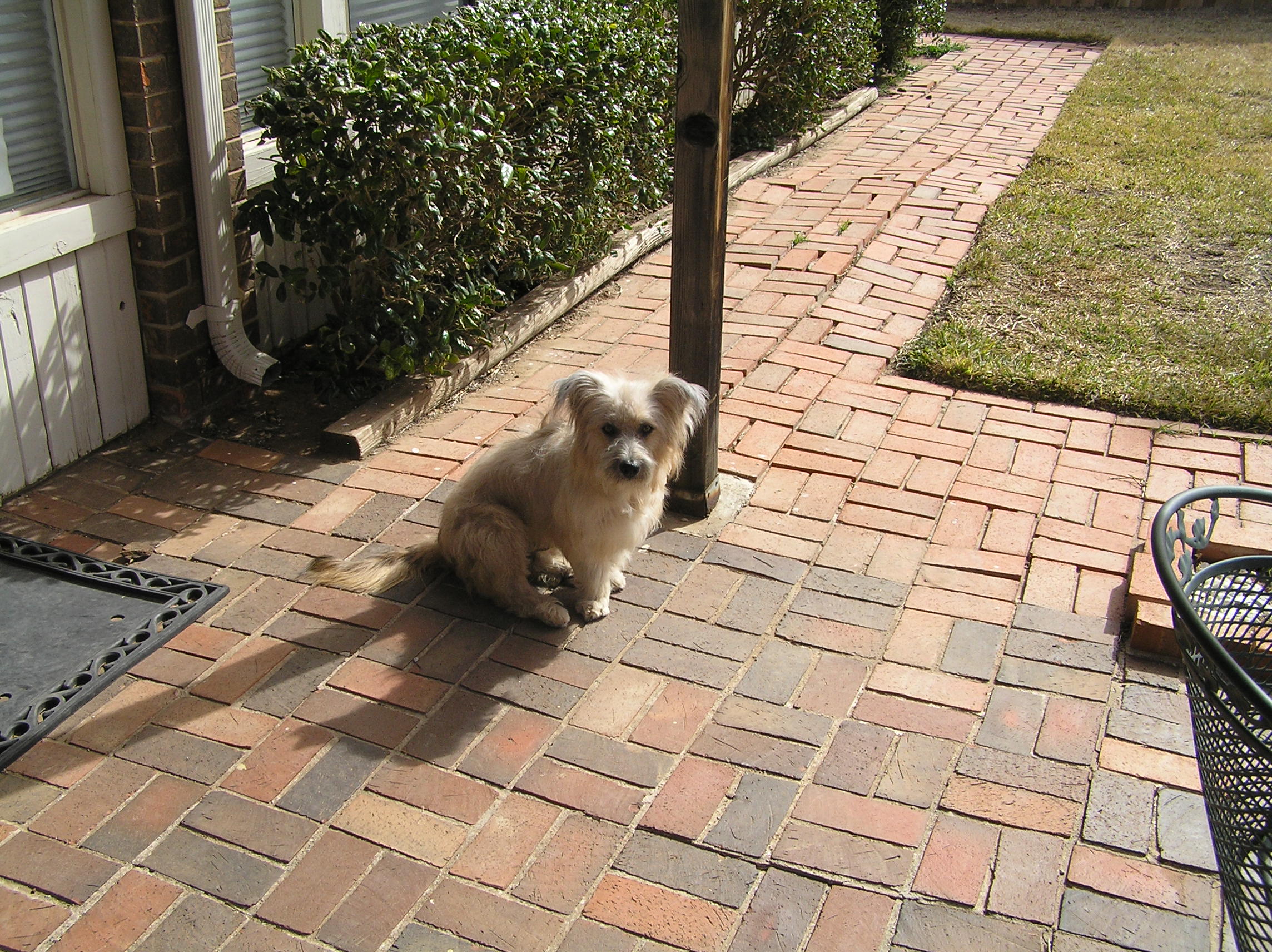 I think most people have probably seen the ASPCA commercials on TV. Heartbreaking and despite decades of telling people to spay or neuter their pets, pet over population and cruelty is epidemic in this country: This Costs States $2 Billion Dollars A Year.

Yes, there are children going hungry in this country and our republic is imploding and I've been doing my part for over 23 years full time. However, I hope that we don't lose our humanity along the way and simply continue to ignore this massive problem here in America. The cost of animal shelters is enormous and it doesn't have to be that way. Yes, it does cost to get your dog or cat spayed or neutered, but there are free clinics all across this country or low cost spay/neuter days at places like PetsMart.

We have an animal problem because those oh so cool Americans with their IPods and important little lives are not taking responsibility for their obligations. As I was standing in line to pay the fee for adopting Dusty, a late 20s something female was standing in front of me. At her feet was a box of six cute little kittens crying. They were absolutely adorable. I asked if she was giving them up for adoption? Her response was yes, the mother "got out" and well, she doesn't know what to do with them.

I noticed this female's hair was perfectly groomed, her fingernails were brightly painted as was her face. She can make sure she's buff and groomed, but too irresponsible to get her cat fixed so that box of adorable kittens doesn't end up on the euthanasia table, and they probably did. Sacramento County Animal Shelter is one of the worst run in this country, financial problems like many all the time and a massive euthanasia rate. All Little Miss Fashion Plate had to do was take one hour to get her cat to the vet or a low cost spay clinic (getting her cat fixed would cost less than that tint job on her hair) and help stop this problem.

Only the American people can reduce this unnecessary and
terrible problem by being responsible pet owners.

Most county "pounds" or animal shelters require an adopted dog or cat get fixed. Sacramento does; I paid the fee and then had to wait until the next day while my new friend for life was taken to a local vet and fixed up. It wasn't a problem for me, altho' I was excited to get my boys home.

Willy was a runner. He was picked up on the street, about six months old; someone didn't care enough to make sure he was secured. My little man is a treasure, such a gentleman. Dusty was about six months old also and starving to death. He was an over night drop off with no paperwork. My little meister was just laying in a cage, dirty and hungry. Eight days later I took his little face home. Both of my boys have been a joy each day they've been part of our family.

Many, many years ago I also got pet insurance for my muggers. It was the smartest thing I ever did as a pet owner. For as little as $9.99 per month, this insurance can make it possible for you to be able to get your friend for life the medical treatment they need and not kill your bank account. So many people have to put their dear friends down because they can't afford an operation or treatment. Pet insurance makes it possible. I do not receive any compensation whatsoever, but I do recommend my carrier: Veterinary Pet Insurance. There is also cheappetinsurancecomparison.com where you can find the right policy for your animals.

Update: When I adopted Muffin she had heart worm. With the proper treatment, we got rid of the heart worm. However, VPI would not insure Muffin because they considered heart worm a pre-existing condition. I then found Pet Plan Insurance; all three of my girls are insured. PPI is an excellent company, very responsive and offer several plans to insure your dog or cat.

It sickens me that people in this country abuse dogs, cats, horses and other animals in the most heinous fashion. When I lived in Lakewood, Colorado (a suburb of Denver), every winter it was the same thing: news coverage of the animal shelter folks going to pick up a dog in a back yard frozen to death during a snow storm. The owners go skiing and leave their pets outside to die a horrible death. Crap for brains. Why not put them in a kennel for the day? The cost? Don't insult my intelligence. Those lift tickets out in Vail, Loveland and surrounding areas for one day cost five times as much as one day in a kennel. It's called being selfish and self centered. I despise people who abuse animals, drunk or sober. They are mean, small and heartless.

There are too many to save. That's a fact. When I was visiting the animal shelter both times to find Willy and Dusty, there were HUNDREDS of faces staring at me through the cages, bleeding with their eyes — please take me home. It hurts and I could barely stand to go down there, but it takes many visits to find just that right friend for life. I wish I could adopt more, but I can't. What I can do is help within my budget.

I give regularly to Red Rover. They are fabulous in their efforts rescusing and helping to reunite pets with their families during and after disasters like Katrina.

I give the $18.00 per month gift each month to be an angel for those innocent dogs and cats you see at Myaspca.org in honor of my mommy. She can't afford the $18.00 per month, so I do it for her. I do it for all those little faces that are beaten, kicked, starved, stabbed, run over and treated like garbage when all they want is to be loved. Can you help out by becoming an Angel?

WILL YOU BE AN ANGEL?

Seven Ways You Can Stop Puppy Mills

You are the key to stopping the cycle of cruelty – The Humane Society of the United States

Katherine Heigl pledges $1 million to help animal shelters

More dogs die from microchip tumors

Merck Sued Over 'HomeAgain' Pet Chip Cancer

Toxic plants you need to know about