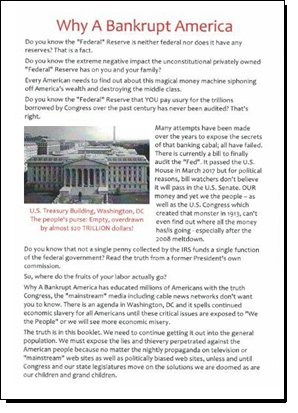 Prices:
1 booklet: $5.00 + $.41 sales tax = $5.41
5 booklets: $14.00 + $1.15 sales tax = $15.15
10 booklets: $22.00 + $1.80 sales tax = $23.80
25 booklets: $50.00 + $4.10 sales tax = $54.10
50 booklets: $100.00 + $8.20 sales tax = $108.20
100 booklets: $185.00 + $15.17 sales tax = $200.17
Why A Bankrupt America - 2017 Edition
If you're unfamiliar with Devvy's work, her bio is here
Due to the very high fees which have to be passed on to you the customer, Why A Bankrupt America - 2017 Edition is no longer available on Amazon. Devvy is committed to make purchasing this critical booklet as affordable as possible but as we all know, everything keeps going up in price. THAT is the issue and it's all explained in the booklet. A nearly worthless currency and where your federal 'income' taxes really go which shocks everyone.
If money is tight, get a couple of friends, pool your funds and buy the number of copies you want.
Devvy is now using Paypal which is basically the same as Amazon as far as placing your order. Very easy.
You can use just about any credit or debt card or check. Just choose the number of booklets you wish to order and click.

All prices include shipping, handling costs and mandatory sales tax if the booklet is purchased in the State of Texas..
From 1993-2004 when Devvy was shipping the first edition, UPS was the shipping source. However, today their costs compared to then and now are out of this world so all orders go media mail via USPS at a substantial reduction.
Give a copy to family members, friends, neighbors, people at your church or employees. Offer a complimentary copy with a purchase if you own your own business or are a vendor at a gun show or other events. There is nothing 'political' about Why A Bankrupt America. It isn't about Republicans vs Democrats. It's about the truth.
It is ideal in length (44 pgs) to educate our fellow Americans on the issue of the deadly fiat currency we're forced to use, the destruction to you, your children, grand children and our country by the unconstitutional, privately owned 'Fed' and it's umbilical feeding cord, the IRS.
Knowledge is power but only if we are able to get the truth to millions of Americans.